World can be fair! 20 Febbraio 2016 / February 20th, 2016 in Torino (Italia / Italy)
Il 20 Febbraio 2016 alle Officine Corsare in Via Pallavicino, 35 a Torino  abbiamo realizzato l'evento "World Can Be Fair!" che costituisce il lancio del progetto Youth Work Net, iniziativa  di formazione all'imprenditoria etica per giovani dai 18 ai 25 anni.
"World Can be Fair" ha visto relatori provenienti da Germania (Soziale-bildung di Rostock), Scozia (One World Shop di Edimburgo) e Turchia – oltre che interventi del Commercio Equo di Altromercato  e LiberoMondo e del bio italiano – che hanno presentato buone pratiche e attività in corso. Ha partecipato anche un rappresentante del portale web Italia Che Cambia e una cooperante di ACS Italia
Alla mattinata di seminario sono seguiti lavori di gruppo al pomeriggio sulle prospettive dell'Economia Eticamente orientata, l'apericena e un concerto serale con Bandragola Orkestar. L'evento è stato realizzato in partenariato con le Cooperative Sociali I.So.La. e Madiba e con il cofinanziamento della Fondazione CRT e della Compagnia di San Paolo
February 20th, 2016 at Officine Corsare in Via Pallavicino, 35 in Turin we have realized the event "World Can Be Fair!", the launch of the Youth Work Net project, ethical entrepreneurship training initiative for young people aged from 18 to 25 years.
"World Can be Fair" saw speakers from Germany (Soziale-bildung from Rostock), Scotland (One World Shop from Edinburgh) and Turkey – as well as activists of Fair Trade Altromercato,  Liberomondo and the Italian organic agricolture – who presented best practices and ongoing activities. Attended at the event a representative of the Italia Che Cambia web portal and one representative of ACS Italy NGO.
At the seminar held in the morning followed a group work in the afternoon about the Economy Ethically oriented, the aperitif and an evening concert with Bandragola Orkestar. The event was realized in partnership with Cooperative Sociali I.So.La. e Madiba and with the co-financing of Fondazione CRT and Compagnia di San Paolo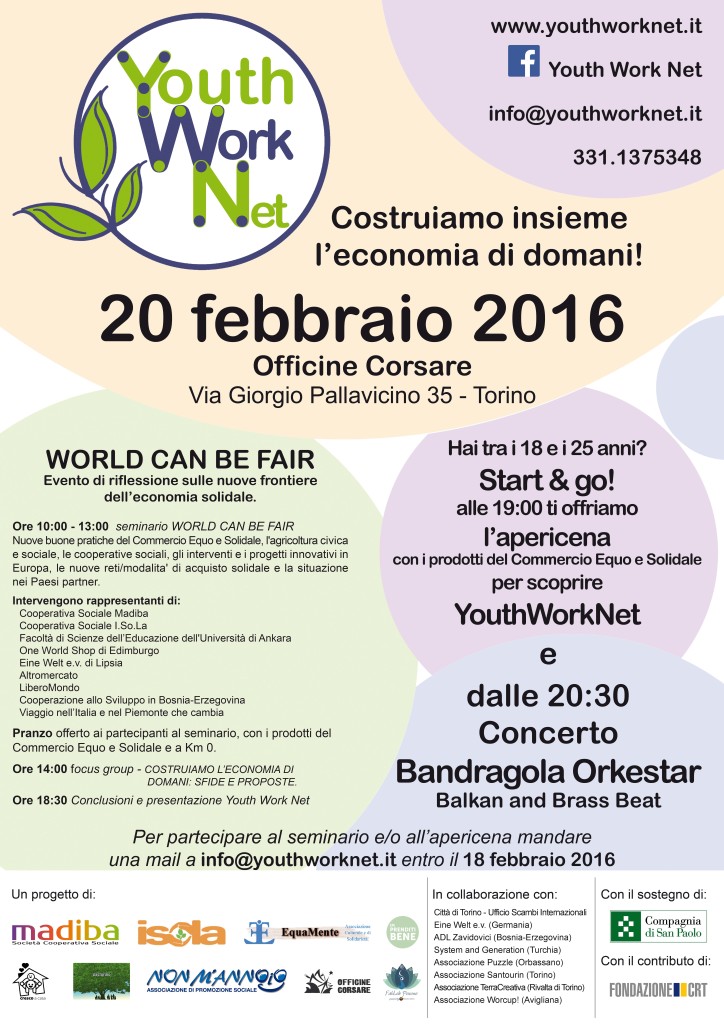 Qui potete scaricare la presentazione di Alba Aceto sull'agricoltura civica e sociale in Italia / Here you can download Alba Aceto's ppt about civic and social agricolture in Italy (Italian only)
Qui potete scaricare la presentazione di Nicola Bottazzo sul Solidale Italiano Altromercato / Here you can download Nicola Bottazzo's ppt about Solidale Italiano by Altromercato (English only)
Qui potete scaricare la presentazione di Rachel Farey & Gilly McWhirter sul Commercio Equo in Scozia e nel Regno Unito / Here you can download Rachel Farey's & Gilly McWhirter ppt about Fair Trade in Scotland and the UK (English only)
Qui potete scaricare la presentazione di Gulbahar Yilmaz e Sevilay Bulut sul progetto Trade Can Be Fair! / Here you can download the Gulbahar Yilmaz's and Sevilay Bulut's ppt about the Trade Can Be Fair project (English only)